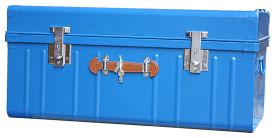 If you're looking for information about a business issue, Missouri Business Portal is a good place to start. The project is a joint effort of several state agencies, including the Secretary of State, the Department of Economic Development, and the Department of Revenue.
The portal is designed to be a central location for business owners to find information, obtain forms, and complete filings involving various aspects of their business. Through the site, business owners can:
Find out what's involved in starting and running a business
Find out what support is available from state and federal sources
Take advantage of counseling as well as market and statistical research
Register a new enterprise online
Make required filings, such as sales tax and annual reports
Here's a sample of some of the resources available through the portal .
Setting up a new company by the numbers
Remember paint by the numbers kits, where a blank canvas is covered with numbered spaces so the painter merely has to paint the right color in each space to create a picture? (I knew them as a child, but they're apparently still around.) Forming a new company isn't as simple as following a few steps "by the numbers," but the portal provides step-by-step guidance that reminds me of the paintings.
The portal's Register tab has a "creating your business entity section" that includes a link to the Secretary of State's web guide to starting a business, which contains downloadable forms and information about creating a new business entity. (Of course, as the website notes, it's a good idea to get legal advice when forming a new company.) The Register tab also has sections for other matters a new business owner will need to consider, such as getting a federal employer identification number, registering for a state tax number, obtaining licenses and permits, and requesting background checks.
A compliance resource
The portal's Maintain tab contains resources for ensuring that a business remains in legal compliance throughout its lifetime. The page contains a section on annual registrations and filings, which includes information about corporate annual reports, sales and unemployment tax reports, and environmental regulations. Other sections have information about taxes, employees, and ending a business.
Market and business research
The Resources tab has links to resources for raising capital, including state and federal resources, such as Missouri Small Business Development Centers, the Department of Economic Development's "Research Toolbox," and the U.S. Small Business Administration. The web page also provides information about importing and exporting products, e-commerce, and environmental compliance.
A great source of information
Whether you're looking to start a new business or you need information about a legal issue affecting your current business, the Missouri Business Portal is a great source of information you'll surely want to consult.